Functional Automotive Safety
Why functional safety?
Our products and services target functional safety of vehicles. AVL Software and Functions provide wide range of solutions within whole functional safety life-cycle in terms of process and technical solutions from concept to series production in compliance with ISO26262 – Road Vehicles – Functional Safety, ISO25119 – Tractors and machinery for agriculture and forestry and ISOPAS21448:2019 – Road Vehicles – Safety of intended functionality.
Built upon mature process and long years` experience in functional safety development AVL Software and Functions not only establish complete safety architectures for hybrid & electric powertrains but also for emerging autonomous driving.
The portfolio of the team is comprised of functional safety management, functional & technical safety concept development, modeling and programming of algorithms, verification and validation as well as moderation of safety analysis e.g. FMEA, FTA and FMEDA.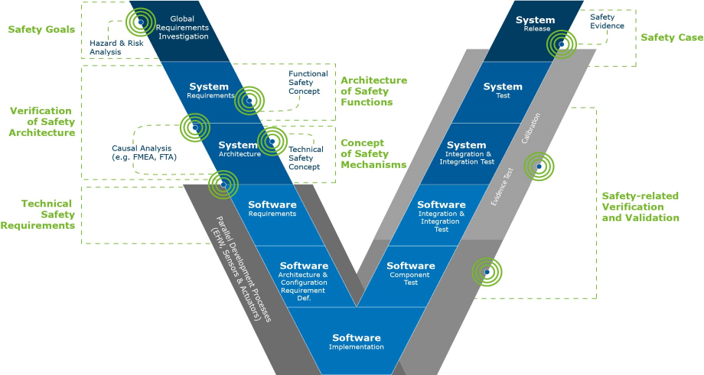 Our Strengths
Integrated Process
A well integrated process harmonizes functional safety seamlessly into the whole control system development process.
Proven Competence
We haven proven our competence in various successful projects with OEMs and Tier-1s.
A reliable partner
We are a reliable partner for functional safety concept development and implementation of technical solutions for a wide range of products.